Your website starts with a domain name
Stay classy with the popular .com or be creative and choose a new gTLD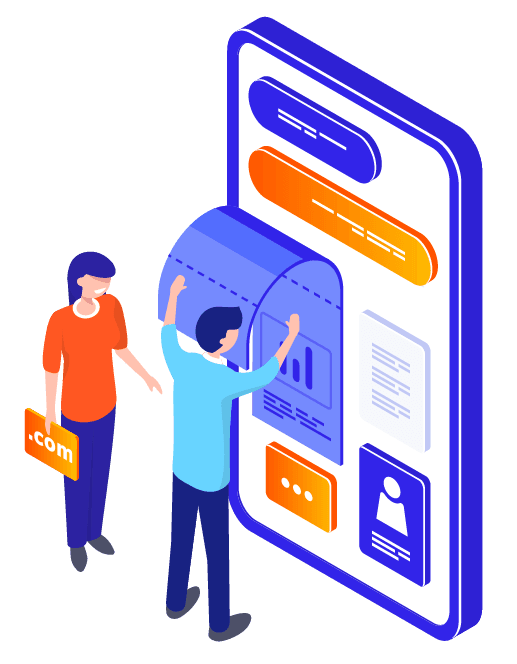 Domain Forwarding
Redirect your new domain name to another website or your social media profile
Flexible Renewals
You can choose between Manual or Automatic renewal of your domain name
Free Domain Lock
Better safe than sorry. Prevent accidental or unauthorized domain transfers
Unlimited Subdomains
You can crate as many subdomains as you want for blogs, forums, shops and os on
Easy Management
You can manage your domain name settings from our easy-to-use control panel
Domain Privacy
For only $4/year you can keep your personal information private.
Can I buy a domain without hosting?
Absolutely! As many as you want. Take advantaje of our cheap domain name registration and renewals costs.
We don't force our customers to pair the domain names with hosting plans.
Can I change my domain name later on?
After you have registered a domain name, you own it for the period you payed for, the minimum being 1 year.
If you want to use another domain you have to buy a new one. You also have the posibilitty to sell the old domain and transfer it to another rowner.
Any tips to find a good domain name?
This is a tough one. There is now process that guarantees as a result a good domain name. The most important question to ask yourself: How will the domain name influence my webiste and my brand in the future?
A short, branded domain name will create a more recognizable brand, while a descriptive domain name will help viewer understand faster what is it that you do or offer. But by all means avoid using hyphens, numbers or unnecessary words.
What does TLD mean?
The suffix of a domain name is called a Top Level Domain (TLD). The TLD is the last part of the domain name, the part that follow afte the "dot". For example, taking in consideration www.thcservers.com, the TLD is .com
TLDs are categorized in: generic top-level domains or gTLD (.com, .net, .org etc.), country-code top-level domains or ccTLD (.us, .de, .in etc.), infrastructure top-level domain or arpa and internationalized top-level domains or IDNs.
What is domains privacy?
Usually when you register a domain name the registrar lists the registration information on a public whois databse. This information is also visible to spammers, telemarketers and hackers.
THCServers offers a Domain Privacy service that hides your personal information from the public eye for just $4 per year.
How can I transfer a domain to THCServers?
If you want THCServers to be the company that manages your domain name you can, by all mean, transfer it. Fast and easy, just click here to transfer your domain.
However there is a domain transfer fee which varies depending on the TLD. The god news is that after the transfer we will extend the current expiration date for one year automatically.